Finely crafted, delicious and imaginative twists on bagel classics.
+ housemade cream cheeses galore.
What sets us apart?
We're Chef Owned and Operated!
Why would anyone willingly go to a lackluster chain, where the quality is low, the food is bland, and the staff doesn't care… when you could eat a delicious Swan City Bagel, prepared fresh to order by our very own Chef Racine. She takes pride in every detail, personally creates the menu, and has a true passion for her craft.
Treat yo self!
We're local!
We're inclusive.
The world is better when we interact with our neighbors, support local, and create a sense of community. We are Orlando natives, and we are here to share our culinary creations with our friends, families, neighbors and our beautiful city. We are inclusive and welcome everyone into our wonderful bagel world, of all walks of life, which is why we serve a varied menu, including plenty of vegan options. We're also dog friendly and are always happy to get visitS from our furry friends!
"I just wanna make food that people will love, and do things to help our community. Also, I wanna pet all the dogs."
Chef RACINE - OWNER AND HEAD CHEF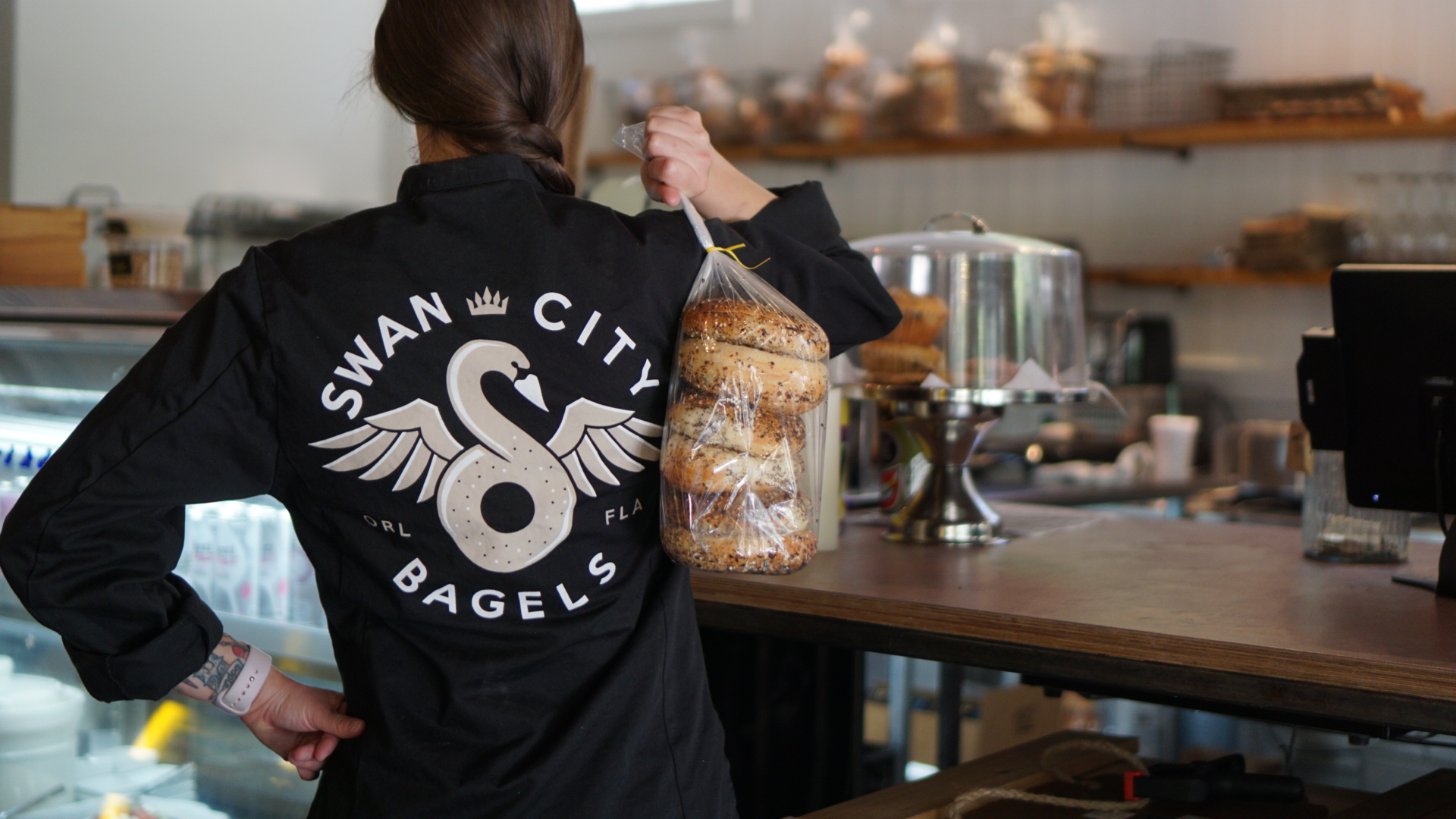 SWAN CITY BAGELS.
Perfect for Breakfast, Lunch, or Dinner!
a swan city bagel isn't your oldschool breakfast only deal. WE're HERE FOR LUNCH AND DINNER too! Our bagels are stacked and loaded with top quality signature items like our "Hick Chick 'N Slaw"… or the legendary "Swan City Vegan Cheese steak"! We're open 8am - 8pm, and if its after 3.. we eveN offer a flight of finely crafted, housemade schmears and bagel chips. In the evenings we also have artisan cheeseboards, which can be paired with something from the Eola General and Curate wine collection.

We're JUST MINUTES FROM DOWNTOWN, THE MILK DISTRICT, MILL'S AREA, AND oNly 15 Mins from Waterford and East Orlando inside the picturesque and historical "EOLA GENERAL" BUILDING(BUILT IN 1937) ON THE CORNER OF AMELIA AND CATHCART.
Check out our housemade schmears and awesome options on our menu!